Introducing a New Apprenticeshop in Maine
by
editor
The Scholarshipwrights of Rockland are very pleased to announce their newest apprenticing venue:
THE APPRENTICESHOP OF NOBLEBORO
The Scholarshipwrights of Rockland, located in downtown Rockland is the headquarters, the resource library, the archive, Technology Bank, and a meeting place. The Apprenticeshop of Nobleboro, set on Damariscotta lake is where a committed group of apprentices will live and learn together with guidance and instruction of an experienced boat builder. Apprentices will build boats, find certitude in their hands, create a vibrant and inspired community, interpret the boats and share with the public through welcoming visitors, campaigning their vessels, showing exhibits, offering workshops and sharing online and in print publications.
WHY?
Apprenticing is the taproot. It's been the taproot of trades, communities, civilizations as far back as we can go. When Mary Oliver, poet or our times asks, "Tell me, what is it you plan to do with your one wild and precious life?" We answer: Apprentice – to a project, a craft, a Hampton boat, a life.
It is a sin of the soul to coerce others into opinions, nonetheless I consider it culpable neglect not to impel every youngster into life-bearing experiences. ~ Kurt Hahn
My…stimulation grew out of experiences on a small island 11 miles off the mainland in Penobscot Bay, U.S.A, where, floatable at will, in and out of nature's tidal drydocks, with a 15 foot rise twice a day, boatbuilding was the parent technology and the devices for its original design and fabrication, together with its subsequent sparring, rigging, beaching-out, wintering, cradling, rebuilding, launching, and upkeep in general, were so broadly effective as to govern spontaneously almost any technical tasks on the land, whether this was building dwellings, barns, well houses, or water-course controls – for water conservation on the island was as essential to survival as was our ability to pass successfully over the waters around the islands or to the mainland.
Fishing was the primary local industry, and such tension systems as seines, trawls, weirs, scallop drags, lobster pot heads, and traps together with all their respective drag and buoy gear, ensured an ever present abundance of stout cordage and light lines as well as experience in net weaving, tieing, splicing and serving. Here men passed a line and took a turn in deft tension techniques as spontaneous as those of spiders.
~ Buckminster Fuller
Photo credit: Steve Bailey
On the whole the relation of master and apprentice – at once domestic, educational and economic – served the purpose of  society well… For centuries apprenticeship was the old English school of craftsmanship and character. 
~ George Trevelyan
THE FIRST PROJECT: THE HAMPTON BOAT
Limited in size by economics, human power and the weather and region in which used, Hampton boats were central to the salt water farm. Hampton whalers, also known as New England boats (both square-sterned and double-enders) were first built according to some by Enoch Chase in 1805 in Seabrook, New Hampshire. This type appears to have influenced most of the "two-mast" boats east of Cape Cod in the last half of the 19th century.
For simplicity, economy, security and beauty, Hampton boats have possibly never been equalled. Designed often by whittling half-models, Hamptons were built, sailed, rowed, fished, and re-designed and built again by a resourceful breed who through that process became magnificently educated to living in harmony with nature. These sea kindly vessels were and remain a response to the search for sensible scale, speed, performance, cost, pleasure and pride.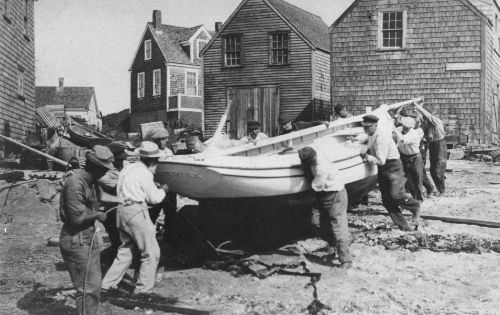 Square-sterned Hampton on Monhegan. (Courtesy of Monhegan Historical Society)
Lines of a square-sterned Hampton, the "Cuspidor." (Courtesy of Mystic Seaport)
The highest achievement in design, construction, and fitting is to obtain efficient operation and retain simplicity; this is being forgotten in many boats today. 
~Howard Chapelle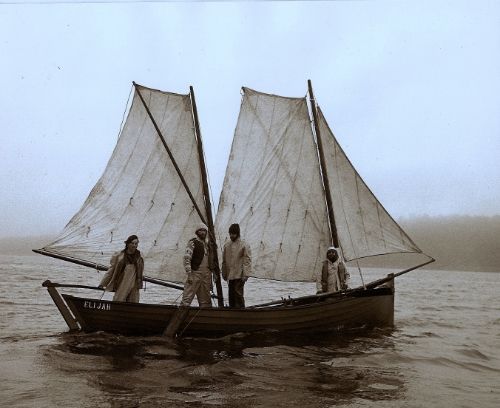 "Elijah, " a double-ended Hampton, built by Apprentices in Bath, 1970s.
SWIFT AND SIMPLIFIED BUILDING TECHNIQUES:
Construction Alternatives of a Bahamian Loyalist Community
Efficient construction of strong, symmetrical, and handsome boats using the midship rising frame technique governed the boatbuilding industry in the northern Bahamas in an established Loyalist settlement during the 1940s.
The builders used no power tools and just two patterns, one for the transom and one for the midship rising frame to construct 12' dinghy-boats to 50' schooners, sloops and ketches. The rake and shape of the stem was governed by the particular crook or knee cut and shouldered out of the forest. The original patterns came down the family line cut out from a builder's grandfather. The rising frame technique took place of the conventional practice of lofting in North America and Europe.
The midship rising frame technique. Photo credit: Ruth Rodriguez
In the winter of 1946, Lance Lee's grandfather commissioned Will Albury, a Bahamian builder, to build a 30' sloop, the Wynne. After just one week, he went in to check on the progress. The keel, stem, stem apron, sternpost, transom, all three rising frames, and all ribbands were in place. None there would ever have worked on a Sunday. The work was done in six days. In the 1980s, after having established the Apprenticeshop in Maine, Lance went down to the Bahamas to visit one of the senior men on the island and asked him how credible the story was of building the Wynne. Kenneth Thompson replied, "I was one of the builders."
There is little information of the midship rising frame building technique used outside of the Bahamas.  Given the path of migration of those loyal to the crown, from the Maritime Provinces in Canada, New England, North Carolina and finally to the Bahamas, it is possible that pockets of this building method existed in these regions.
Apprentices of the Hampton boat project shall research, resurface local knowledge and build using the midship rising frame technique to see if the salt water farm communities could have built their handsome, sea kindly Hampton boats using this swift and simplified technique.
A CALL FOR APPRENTICES:
We are accepting apprentices and will impel 6-10 into this program; those who are highly motivated with sense of humor, to build both the Hampton boat and a positive learning community in a pastoral Mill equipped with boat shop, living quarters, kitchen, well, wood stove, and garden on Damariscotta Lake.
This is not a tuition-based apprenticeship, rather it is a Labor for Learning (modified) program designed to lower the cost (and so often loans) for an intensive wood (and word) education.
Inquiries to:  Lance Lee >>> lancelotrlee@gmail.com
 "Before our ancestors set out to find a new island", my father told me, "they had to have a vision of that island over the horizon. They prepared themselves physically and mentally and were willing to experiment, to try new things. They took risks. And on the voyage they bound each other with 'aloha' so they could together overcome those risks and achieve their vision. You find the same values throughout the world", he said, "seeking, planning, experimenting, taking risks, and caring for each other."
~ Nainoa Thompson