Saltwater Farms and the Seaboard Pick-up Trucks of the Maine Islands
by
editor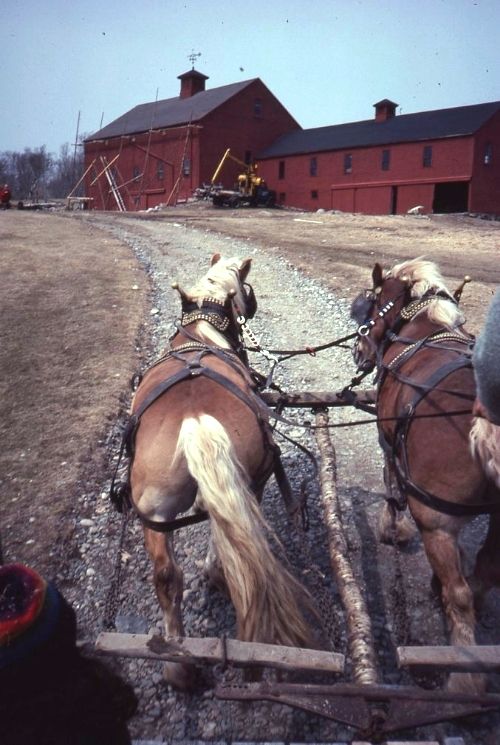 Horse power on Roque Island's saltwater farm
Excerpts from "The Crotch Island Pinky" publication put out by The Bath Apprenticeshop in 1975, text by Lance Lee, edited by Arista Holden
"There's always water tools all mixed in with the land ones. You have to back an eel spear out through the mowing machine wheels before you can start haying. The bagged Baldwins in the shed are mixed in with the split and dried hake, open ledgers of the life of the sea. The horse hoe is all mixed up with the wicker eelpots. The shingling hatchet and hammer are usually found in a clam rocker. Like as not there is no room in the wood shed because a reach boat fills up the whole place, lifting the sheer beauty of her high bow toward the rafters. And the shavings around her mean so many unpulled turnips and unthreshed beans. But they also mean life more beautiful than turnips or beans can ever make it." ~ R.P.T. Coffin
Harpswell, Maine. Bailey Island. Orr's. Crotch Island. Birch, Ragged, Jewell. The islands of Casco Bay, twenty miles from Bath, are long granite outcroppings that reach into the Atlantic like fingers. Well into this century the saltwater farm, the sail and oars fisheries and an ageless blend of wits, human energies and natural, renewable resources comprised the style of life on those islands. Like the granite fingers themselves, Coffin says of the Maine people,
". . .the sea has washed out all the softness in them."
The great beach of Roque Island, 1980s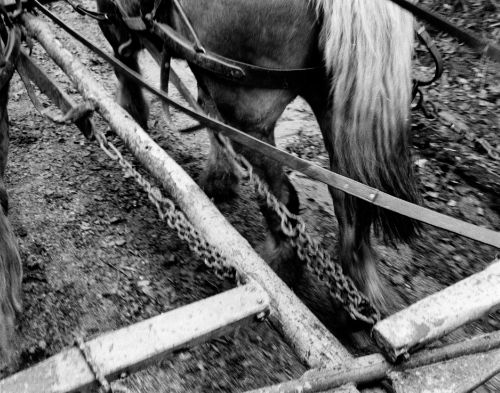 Bud and Barney, a pair of Clydesdale draft horses, and the trestle and evener of the logging cart. The evener is a simple device to disperse the weight evenly between the two horses. 
Bjorn Lee riding to see the pigs on Roque Island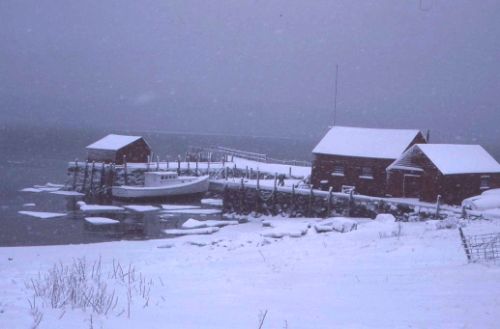 The Roque Island saltwater farm, approximately 300 acres, has been owned by the same family since the 18th century. The modern lobster boat is the next evolution of the Hampton Boats of the New England coast.
They farmed, built their own homes, barns, and outbuildings, seined, went hand lining and lobstered. They built their own Casco Bay "two mast" boats in winters. Out of this seasonal round, out of doing, they grew resourceful and proud. And through experience they forged that strength into their children.
Ability as boatbuilders gave them independence and sureness as well as fine, seakindly boats to reach out to the sea and the mainland. One of the finest chapters of maritime history is the record of these New England farmer builder fishermen and their traditional small craft.
One of them, Walter Wallace, then 87, fished Casco Bay under sail out of such a double-ender at the turn of the century. In talking to us of saltwater farming, he said, "I was born on Gun Point, about 10 miles from here. Had a little farm over on the shore. . .  There was time when almost universally one man would build his own boat, or he'd have help, y'know. Timbers and masts and things like that were all taken out of the woods. You picked it out and cut it, that's all. Whatever come to hand they done. They could fish and they could farm, y'know. They were four-handed."
In The Hardscrabble, a novel of 1870, by Elijah Kellogg and owner of a Hampton Boat, wrote about boat building on the Maine Islands:
"I can do without a vice, make the hammers, tongs, and other tools, and I think I can make the bellows; so there will only be the anvil, the steel, and iron to buy."
Captain Rhines sat and listened, as they were talking in low tones in a corner, till he could bear it no longer; and taking Ben and Uncle Isaac aside, he told them what he had over heard.
"It's too bad, Ben, to let such boys as these struggle along so! i'll take the Perseverance, go to Portland or Boston, and buy them a complete set of blacksmith's tools. If we build vessels, we shall need them."
"Don't you do it. .  ." said Uncle Isaac; "for the life of you don't you do it! You'll do them more hurt than good. Hardship don't hurt boys. It didn't you and I. they are doing first rate — making grand calculations! It's drawing out what's in 'em"
______________________________________________________________________________________
In the early 1970s, the Restorationshop in Bath built a copy of Elijah Kellogg's Hampton boat. The boat's name, Elijah, is a tribute to Elijah Kellogg, a man of strong convictions and outstanding abilities matched by humility and humor. He sailed and fished throughout Casco Bay, and his skill as a sailor was widely recognized.
Elijah  moves through Bath on her way to launching in the traditional manner.
The builders, Lee Huston, Bill Highsmith, Nan Flash and Tim Lippert, at Elijah's launching on the Kennebec River.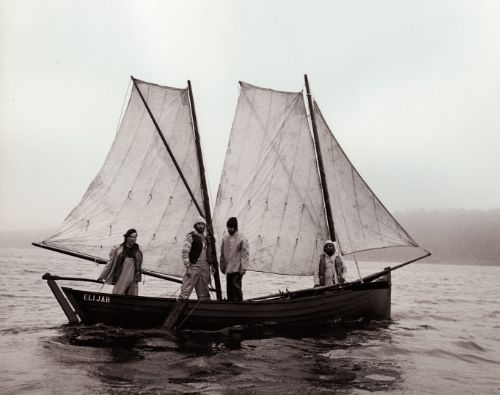 Limited in size by economics, manpower and the weather and area in which used, many were central to the salt water farm — true of Cape Cod and the islands as well as Maine. They were often built over one winter of the timber at hand and with severely limited money and hand power.
The Hampton (both square-sterned and double-enders were common), widely called the New England boat, was first built according to some by Enoch Chase in 1805. this type appears to have influenced most of the "two-mast" boats east of Cape Cod in the last half of the 19th century.
In most cases the New England double-enders achieved a pinnacle of development by 1900. For simplicity and economy, security and beauty, they have possibly never been equalled. They were designed (usually by whittling half-models), built, sailed, rowed and fished, redesigned and built again by a resourceful breed who through that process became magnificently educated to living in harmony with nature. These ordinary water craft were and remain a response to the search for sensible scale, speed, performance, cost pleasure and pride. They deserve to be built again. Howard I. Chapelle, the late naval architect and maritime historian, wrote in American Small Sailing Craft:
The highest acheivement in design, construction, and fitting is to obtain efficient operation and retain simplicity; this is being forgotten in the construction of many boats today.
______________________________________________________________________________________
"This Is My Country" by Maine poet
Robert P. Tristram Coffin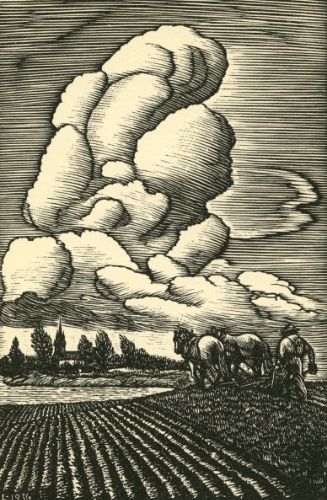 This is my country, bitter as the sea,
Pungent with the fir and bayberry.
An island meadow, stonewalled, high, and lost,
With August cranberries touched by frost.
Two hours of sun before the fog erases
The walls on walls of trees trimmed sharp as laces.
A house behind the last hill of them all,
And, after that, the lonesome seagull's call;
A juniper upon a windy ledge,
Splendor of granite on the world's bright edge,
A heron on the beach and one on wing,
Wind wrapped round each last and living thing,
And all the trees like strings upon a harp.
These are my people, saving of emotion,
With their eyes dipped in the Winter ocean,
The lonely, patient ones, whose speech comes slow,
Whose bodies always lean towards the blow,
The enduring and the clean, the tough and clear,
Who live where the Winter is the word for year.
And the briar rose had best be brief,
Where most trees wear dagger for a leaf.
These people are my kindred and my kind,
They have a lighthouse for a mind,
Keeping it lit inside, because the sun
Is too low to be a trusted one,
The cheerful, crystal people who have had
The chance to know the taste of being sad.
____________________________________________________________________________________