Friendship Sloop Rita: Grace and Elegance Afloat
by
editor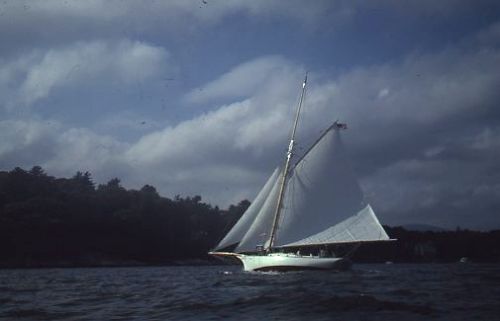 The Rita, launched in the summer of 1989, was built at the Rockport Apprenticeshop by Instructor Kevin Carney and Apprentices Mark Holden, Roberto Laignelet, Peter Clapp, Peter Marvis, Eric Thierry, Carol Scranton, Ce Koester and Jeff Darby. She was commissioned by Frank Snyder, Commodore of the New York Yacht Club, to replicate his original  Rita, built by Morse in 1903. The lines, taken by John Atkin in 1955, supplemented by photographs assisted the Apprenticeshop in designing and constructing the new Frienship sloop Rita.
She was built and launched at the same time as the Norwegian lestabat Varin.
"Building two workboats of the same time in history to contrast the different styles of building, the different shapes of the hull, and the different corners of the earth"
~Peter Clapp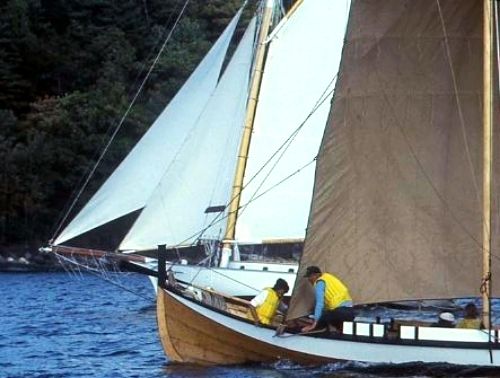 Selected Text by Peter Clapp, from the Apprentice #10, Autumn 1989, edited by Arista Holden
After a long hard year or more of building, building,, building, the Friendship sloop, Rita was launched on July 22, 1989. Several weeks of rigging her enormous spars was an experience in itself – sheets for the main, halyards for the jib topsail, all lines needing fair leads to keep them from fouling. The next task was putting her to the test. Finding out how this rig would perform was something we were all looking forward to.
Photos below of Rita  under sail taken by Dee Peppe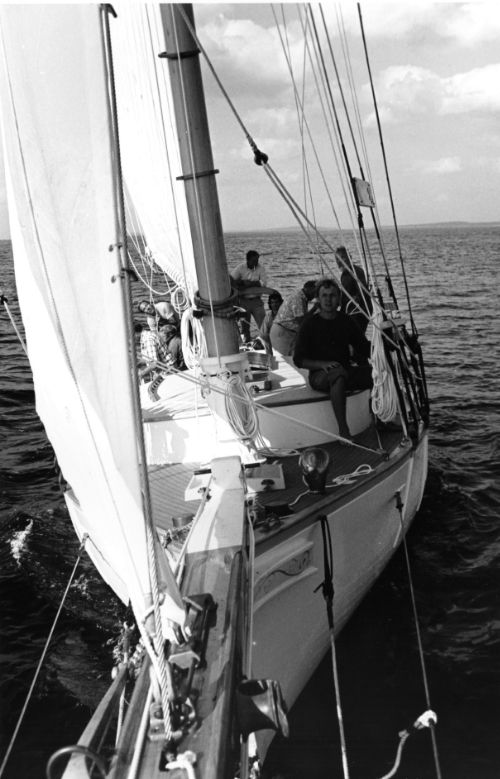 My first sail on Rita was the day of the launching of Varin. Most of the builders and instructors were on board. Before heading out into Penobscot Bay where it was quite gusty and blowing from the north, we checked the rig top to bottom. It was exciting to see how our craftsmanship was working and how well this newly crafted vessel was performing. It wasn't long before a long vortex was trailing from the keel to well out of sight behind us. I can only imagine what this vortex will look like sailing at night through phosphorescence.
Sailing aboard the Rita has been one of my most fulfilling experiences at the Rockport Apprenticeshop. To feel the bow lift up out of the water when a gust hits and then drive back down and push the water aside as she picks up speed gives me a wonderful feeling about the responsiveness and power of this boat. She is beautiful to look at but even more of a pleasure to sail.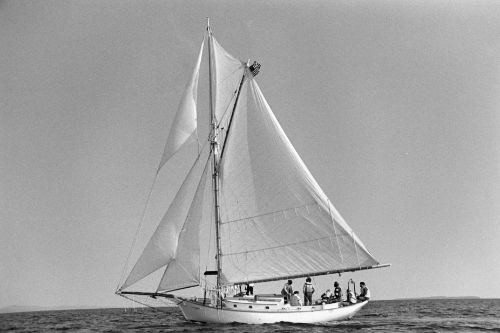 The conditions during sea trials could not have been more varied. We sailed in light air early on, and then the tail end of  hurricane "Hugo" brought some unique weather patterns which were cleared out by some gusty northwest breezes. With all these different conditions we sailed with every possible combination of the lower sails including single and double reefs and alternating jib and staysail. We also sailed with a scandalized main to ease the helm going downwind. As over-rigged as this boat may be thought to be, the versatility offered by this number of large sails gives her the ability to be sailed comfortably under any wind or sea condition.The balance that can be obtained by proper sail trim is demonstrated by Rita's ability to sail herself for long periods of time.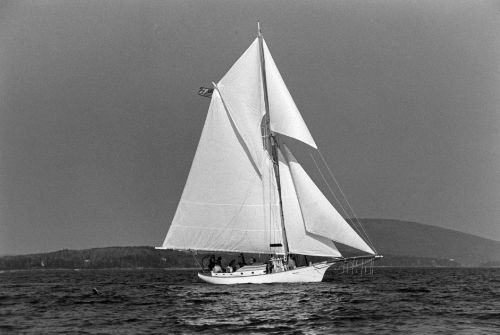 When a gust hits, Rita will suddenly go over on her ear and then come right back up when the gust has past. The quickness of this heeling is unsettling, not the fact that she does it. In a brisk steady breeze Rita will sail with her rail nearly under and will carry quite a bit of sail with no ill effects. She performs best under these conditions. However, when sailed with too much heel, she loses speed so, again proper sail setting and trim is important. So far the most trouble has come from sailing in a following sea. A 4-to 6-foot sea will lift the stern up and start a broaching motion which takes plenty of conscientious steering to keep under control. Trimming the boom in closer helps.
Few traditional sailing craft afloat have the grace and elegance of this Friendship sloop.
Photo by Steve McAllister
"This one wasn't built like a traditional Friendship. They made some changes in the construction. The backbone setup is a little bit different. The gripe setup – some call it the forefoot – and the knee setup forward are a little bit different. In this one, the gripe setup was integrated with the mast step – that's where Bengazi wood (from Africa) was used. Originally, Friendships had no floor timbers; this one has thirteen. Some of that is to account for the outside ballast. We needed to stiffen it up a little bit and have a way to bolt the keel into the structure of the boat.The interior was completely reworked, and the cabin sides are higher than they were traditionally. And the deck structure is different. We used the more contemporary clamp and shelf method up top to tie the deck into it. Traditionally, they were built with a really wide piece of oak called a lockstake which tied the whole upper structure together." ~ Kevin Carney