A Glance Astern: Photographic Memories of a T-Wharfer
by
editor
This article by Lance Lee was published in The Apprentice, The Rockport Apprenticeshop Journal, Spring 1986, No. 5, pg. 8
*Note: Boston's waterfront used to contain T Wharf now mostly gone except for a remaining section that lives on as part of Long Wharf, near where the ferries dock. Please view some remarkable images of T Wharf in the 1930s here.
"In our age many have ceased to believe it possible to simply go. For Arthur, one venture led to another as the night follows day"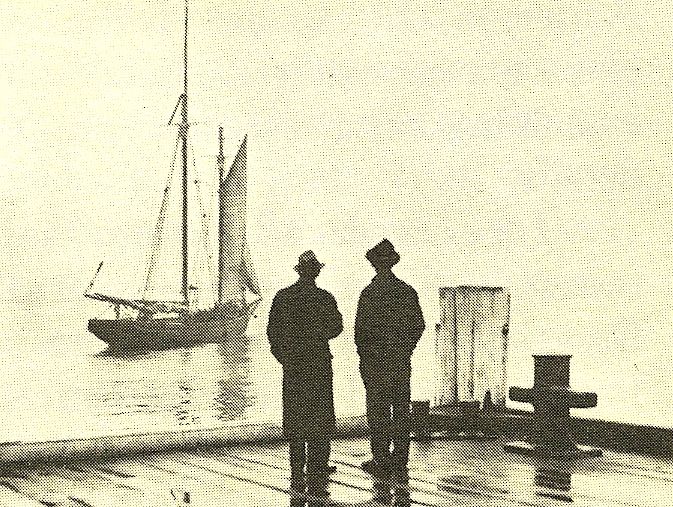 Newfoundland schooner leaving T Wharf. She was the Christmas tree schooner. Photos by Art Hansen.
Found rolling in the surf south of Boston was one segment of the mast of a sizable vessel. "Couldn't we build a raft?" Arthur asked his father. He was four. Seventy years later Arthur Hansen has published Photographic Memories, and the realm of a small paperback dream is much enriched. A grand case can be made for needing no more in this life than the sea and the dream — and a raft.
Memories is a collection of photographs taken in the '30s, '40s, and '50s — most while covering the waterfront for the Boston Herald. They depict "Arthur's rafts," a life- time's parade of vessels, large and small, in which to freight his lust and longing for adventure and always his dreams from Nova Scotia to Cuba and from Okinawa to Cashe's Ledge. One day during the war he flew over the Swedish full-rigged ship Abraham Rydberg then making a landfall in Boston Roads. The Herald ran his resultant photo front page, and Arthur had the wits to take a copy out to the Swedish captain the following morning, thereby winning a passage for his wife Ellie and himself down east the following week.
Together Ellie and Arthur bought a Navy lifeboat ($15), rebuilt her, and prowled Boston Harbor. They bought a Friendship sloop in Camden ($500) and sailed west; a Bahama sloop and made Cuba. . . .
Hauling in the trawl line from the dory. Only an expert can coil a trawl and flip the fish into the boat at the same time.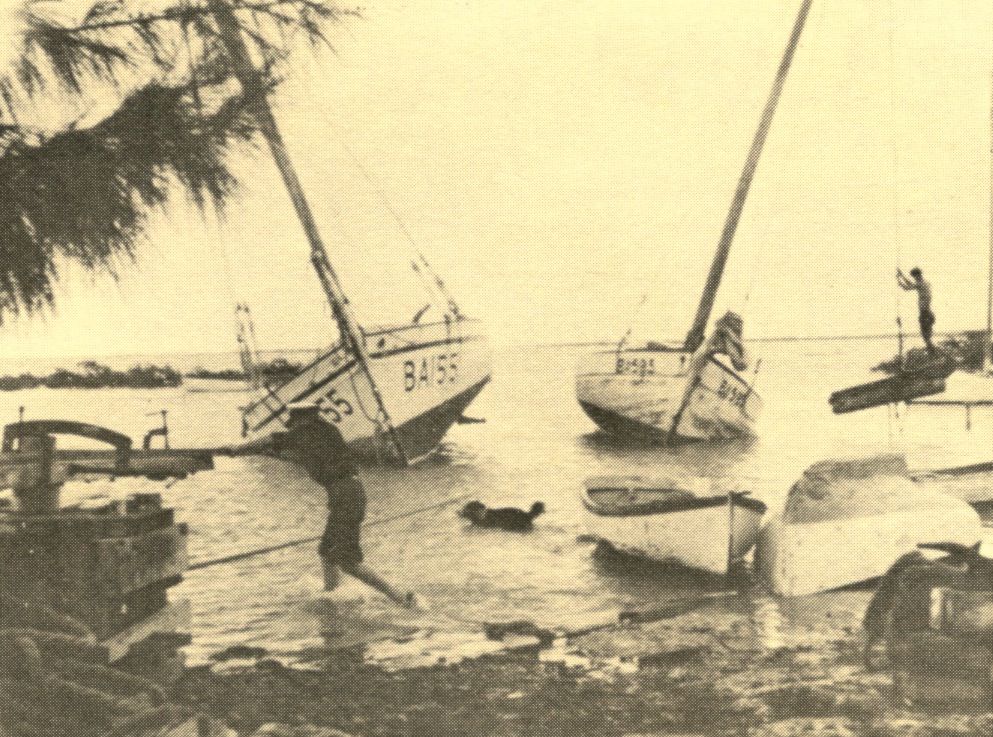 Launching Penquin,renamed Jack Tar, Little Exuma, Bahamas, 1945.
What is best in this slender volume is the evidence of a romantic with no wealth but his wits living the dream. In our age many have ceased to believe it possible to simply go. For Arthur, one venture led to another as the night follows the day. He rode the rails of a Nova Scotia freight, steered the lovely old barque Coriolanus on her last tow to the breakers, and ultimately commissioned Dave Foster (master builder at The Rockport Apprenticeshop, then at the age of 22 at his Pamet River Yard on Cape Cod) to build a Bahama ketch. She was whittled out by Arthur, refined by Fenwick Williams, and subsequently run in the charter boat trade on the Cape. His photo essay, beginning with the years living on a T wharf, reinforced by a personal narrative will compell you to dream. (And leave you a bit embarrassed if you don't go scrounge a Navy lifeboat and begin. . . .)
Copies of Photographic Memories of a T-Wharfer are available here.