Not by Bread Alone
by
editor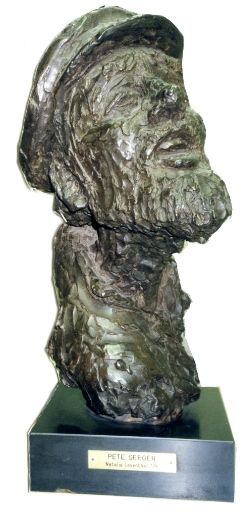 by Lance Lee
Mystic had rigged their big tent for John Gardner's Small Craft Weekend at Mystic in June of 1975. Asked to speak on ways to increase the momentum of the building and handling of small craft and apprenticing, Jim Gardner who just graduated from the Apprenticeshop stood up. "How do you justify our getting $4.00 an hour after two years?"
"I can't," I said, but that's why we're running the A/Shop, towards changing it."
A tall man in the corner spoke. "I can answer that,"
Pete Seeger said, "Not by bread alone."
The friendship that began that day peaked in the late '90s when we became partners in founding the East River Apprenticeshop. Boatbuilding looked like a even privileged discipline then, much removed from the heartland of this country and beyond the reach of city kids. We wanted to change that. To build a plank-on-frame created capabilities and work ethics, problem solving and resilience which could be translated into many endeavors beyond water. We drew kids from Queens and Brooklyn. They named their new Swampscott dory the All Hands. The 'Shop didn't last and the reasons will get no more space. But Pete struck the initial match; he sang to raise funds and his donations were unreasonably generous.
Committees are not always fun but we held our founding trustee meeting at Mystic with Amistad being planked in the Shipyard and graduate apprentices at work on her.
There's much more. He came down to the 'Shop several times, sang a benefit concert for us with Gordon Bok and sailed in our No Man's Land off into Penobscot Bay. In the early 90s, I went into Russia to found the Apprenticeshop on the Neva, and also went into the wilderness between Moscow and Leningrad with some 16 orphans, teenagers and three adults. The Americans on the trip had meager to no Russian and none of the Russian kids had much English. We all sang Pete Seeger songs and kept ending those little fests with We Shall Overcome. Next morning was the August Coup.
Among how many millions on both continents did Pete leave us so rich and moved?  His life was spent deeply. He "lived into his posterity" (I wished I'd written that).
There was a long tribute which seemed as good as it might ever be written in the April 17, 2006 New Yorker.
Thank you Pete and Toshi.